Google had a lot to prove coming into Google I/O 2023 from last year's event. This year Google has turned up with loads of AI announcements. They showed a new large language model, AI features in Docs and Sheets they also demoed Ai integrated Google search without hiccups this year around.  Google also announced several new products from  Pixel devices, including the Pixel Fold, Pixel Tablet, and a Pixel 7A which you can order now or pre-order.
Below are the standout items from Google I/O
Google announced PaLM 2 AI language model
Google has announced PaLM 2 its latest AI language model and a competitor to systems like OpenAI's GPT-4. With PaLM 2, Google will be hoping to close the "AI gap" between the company and competitors like Microsoft, which has been pushing AI language tools into its suite of Office software.
Google Maps it's you see your routes in 3D!
Google Maps is bringing its recent update Immersive View to your travel routes. Immerse View currently offers a 3D view of a place and adds information like the weather or traffic to give a better understanding of what's happening in that location.
Updates to Gmail AI writing assistant.
Google has updated it's Gmail AI writing assistant. Help Me Write will let users use prompts to create drafts of emails. For example, users wanting to get a refund for a cancelled flight through Gmail could type "an email to ask for a full refund" in the prompt box. Hitting 'create' will lead to a draft that users can review. The feature also pulls in any relevant details from other emails. This will build on Google's Smart Reply which it launched in 2017, and Smart Compose.
From Smart Reply ➡️ "Help me write" in Gmail 🧵↓#GoogleIO pic.twitter.com/u0ILECSMN4

— Google (@Google) May 10, 2023
Google's new Magic Editor uses AI to improve your photos
Google's latest photos update is called Magic editor which uses generative AI to let you make major edits to a photo without professional tools. This looks impressive for example they demoed a person in front of a waterfall,  Google entirely moves the person further to the side of the photo, erases people in the background and also improves the sky in the image.
Open new avenues of creativity with Magic Editor—the new AI-powered editor in @GooglePhotos, available for early access to select #Pixel devices later this year 🎉#GoogleIO pic.twitter.com/rkixvBqVHZ

— Made by Google (@madebygoogle) May 10, 2023
Big Update here Google drops the waitlist for AI chatbot Bard and other updates.
Google is adding several updates to its chatbot Bard which includes support for new languages which include Japanese and Korean. They have made it easier to export text to for example Google Docs and Gmail and big update here Dark mode! Google is also removing the waitlist for Bard and it will now be available in 180 countries. It also says there will be Ai image generation powered by Adobe and integration with third-party apps.
Google rebranded Ai tools for docs and Gmail as Duet AI
With this update this is there answer to Microsofts Copilot. In March, Google announced a bunch of AI features for its Workspace suite of apps in an effort to keep up with Microsoft's rapid integration of similar tools. Google has decided to do rebrand in this area and it's called Duet AI. Duet AI covers a range of generative AI tools for Google's productivity apps they include writing assistance in Docs and Gmail. Image generation for slides and more. These products are not yet available to the general public. They did show a feature called "sidekick". Sidekick is able to read summarize and answer questions on documents across different Google apps.
You can get access to these new tools you'll need to sign up to Workspace Labs and join a waiting list. 
Google's find my device gets an update
We really liked this update! Google will be expanding it's Find My Device App Platform. It looks like it wants to compete with other tracking solutions from Apple and Tile. They have announced that earbuds, tablets and other product categories will be added to Find My Device in the coming months. The talking point from this update it will now become a network that uses other devices owned by other people to ping your missing gadget and pinpoint its location.
Google's launches a new Pixel Tablet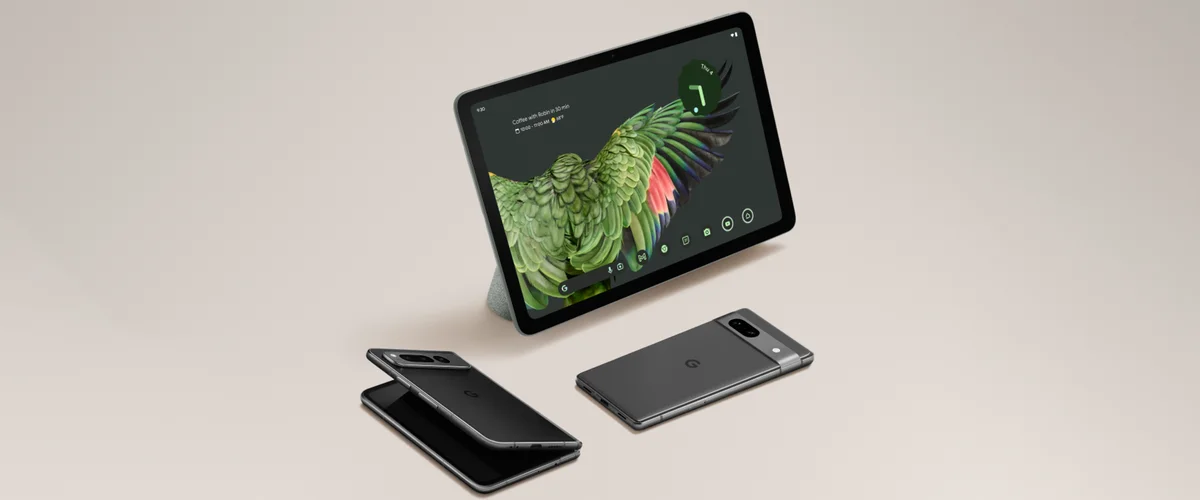 Google has launched a new tablet it will cost $499 which you can preorder today. It has an 11-inch, 16:10, 2560 x 1600 pixel LCD display. It comes in three colours: white, dark green, and light pink, with the dark green model featuring a black bezel. With the tablet is a magnetic speaker dock they gave the scenario as this is the solution to the dreaded "dead tablet in a drawer" syndrome. The magnetic speaker dock is a place to store the Pixel Tablet when it's not in use it will also charge the battery. If you're playing music or watching a video on the tablet when you put it on the dock, it will seamlessly transfer the audio to the dock's speaker. Pull the tablet off the dock while something is playing, and it will instantly switch to the tablet's speakers.
Pixel Fold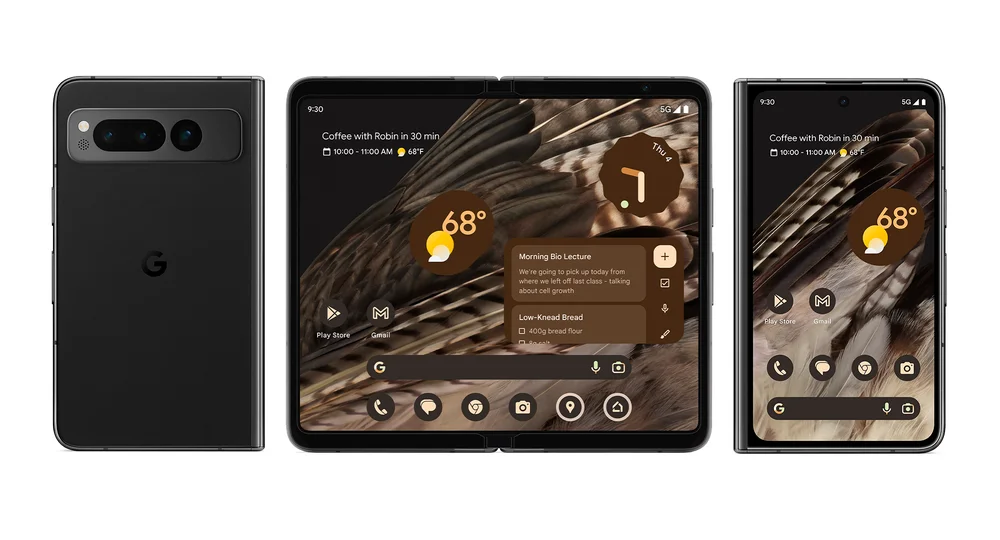 Following rumours and leaks Google announced the Pixel Fold Phone. It will cost $1,799 and it will compete with the Samsung Galaxy z Fold 4. You can pre order the phone today and it will ship in June 2023.
New Phone Google Pixel 7A
The Pixel 7A includes several new upgrades include a brighter, smoother-scrolling 90Hz screen, wireless charging and an upgraded camera. They said the cost for the phone will be $499 for the Pixel 7A. The Pixel 7A has an aluminium camera bar and metal side rails. The Pixel 7A will be powered by the same Tensor G2 chip as the Pixel 7 and 7 Pro. The phone's 6.1-inch 1080p OLED display and can run up to 90Hz. They certainly have improved the spec for the phone for competing against other brands phone like Samsung and Motorola.
Teaser from Google on "immersive XR"
Google will share more on its Android-powered "immersive XR" collaboration with Samsung later this year. Wonder what could be in this.
Google's new image search tools help you identify AI-generated fakes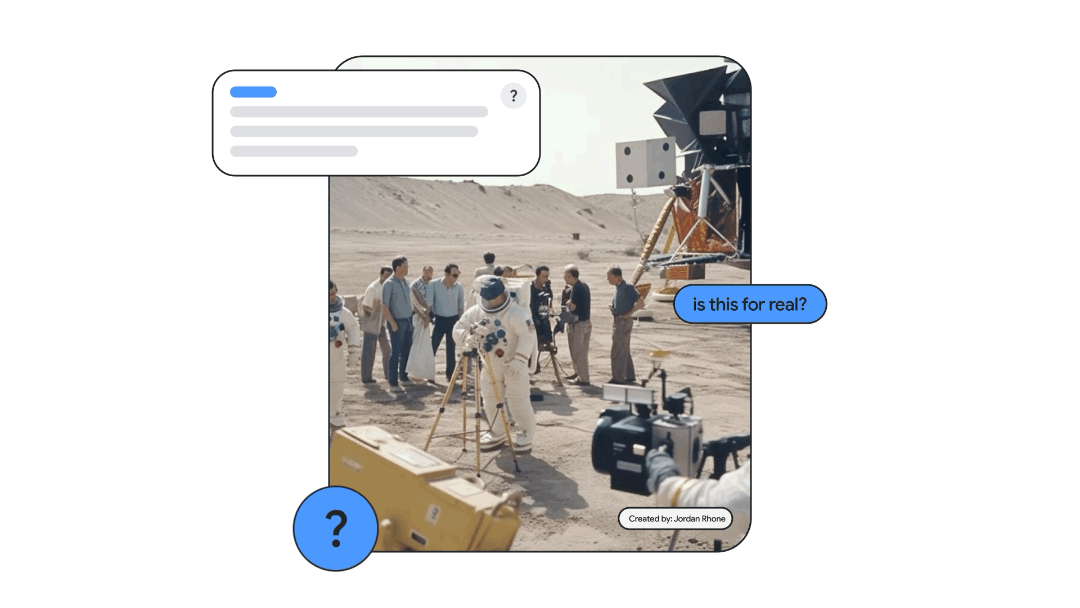 Google introduces new features to help identify AI images in Search and elsewhere. The tool Google is rolling out this summer for English-language searches in the US is called "About this image." To use "About this image," Google explains users will have to click on the three dots on an image in the Google Images search results. Users will be able to access the feature by right-clicking on long-pressing on an image in the Google Chrome web browser across mobile and desktop, too.
Android 14 updates More customization options for your lock screen
Customization options to the lock screen are coming to Android 14 later this year, you now have the ability to add your own personalized clock to the lock screen on Android 14, choosing the font, colour, size and design. There are also new lock screen shortcuts, which allow you to jump into your most frequent activities, like turning on your flashlight, opening your wallet for payment or launching your camera to scan a QR code — directly from your lock screen.
Android 14 Updates Emoji and cinematic wallpapers
Android also has a couple of new wallpaper options, including emoji and cinematic wallpapers.
This looked cool from the demo.Emoji wallpaper feature lets you choose up to fourteen different emoji, browse through various patterns and select various colors to create a unique wallpaper for your home and lock screen. Emoji wallpapers are interactive so the emoji will react every time you touch them.
Cinematic wallpaper feature, you can turn any photo in your camera roll into a 3D image. motions effects to add as your backdrop. A sparkle icon button will give your photos a parallax effect as you tilt your Android 14 device.
Google Android 14 – Emoji Wallpaper Maker & Cinematic wallpaper pic.twitter.com/dIuca82eX4

— TechDroider (@techdroider) May 10, 2023